Large format print 10C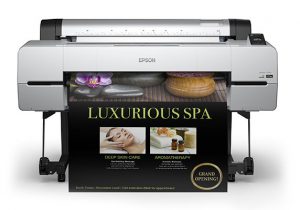 The 44-inch (110cm) Epson SureColor P10000 and 64-inch (162cm) Epson SureColor P20000 are the successors to one of the most widely used art printers ever developed – the Epson Stylus Pro 11880. The Epson SureColor was developed for printing high-quality photographic fine art and indoor graphics displays and has integrated the newly developed imaging technologies – including a completely new, powerful Epson PrecisionCore MicroTFP print head of 2.6 inches width. In addition to the new Epson UltraChrome PRO nine-colour pigmented ink set – including four grey levels – the SureColor P10000 and SureColor P20000 are the ultimate means of production for the demanding requirements of colour and black-and-white print graphics. The new Epson SureColor P10000 and SureColor P20000 include advanced media handling options, from single sheets to rolls, from plain paper to photo and art paper to 1.5 mm posterboard imaging applications.
Large format print 8C
Our HP Design Jets Z6100 and Z6200 give us the possibility to print optimum pictures in black/white, colour and FineArt-Prints. They are highly UV-persistent. We print in different sizes and on different materials up to a width of 152cm with a resolution up to 2400 dpi. The usage of HP Vivid Phot Inks offers highly scratch-proof prints with a big colour-complexity and intense black-tones.
The HP Z6200 also uses HP Chromatic Red, which gives a coverage up to 88% of the Pantone-colours allowed. This is ideal even for FineArt-Prints on special materials such as canvas or Baryt-Papers.
Latex large format print 6C
No harmful substances are produced in latex printing. It is odourless and poses no risk to the health of our employees or the environment. The inks are UV-resistant and scratch- and smudge-proof. A print resolution of 1200 dpi ensures razor-sharp quality and lively images.
Prints on fabrics
Literally, there are "uge" possibilities in using prints on fabric. Not only big -size outdoor banners, but also using the printouts in display-systems. Here they can develop their own characters in using different materials with different effects. Due to our love to details and our special software, we offer many possibilities of high class printing, for example if you use the printouts on low distance-viewing.
In our showroom, you can see the variety of possibilities. Let yourself be inspired and fascinated.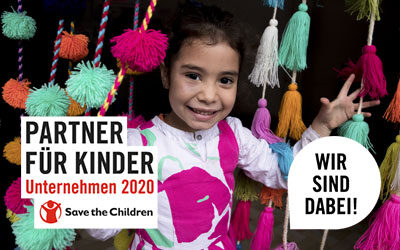 We help to protect girls and boys worldwide.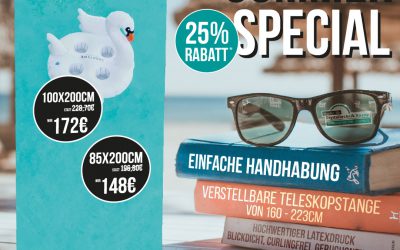 25% discount on Expolinc RollUp Compact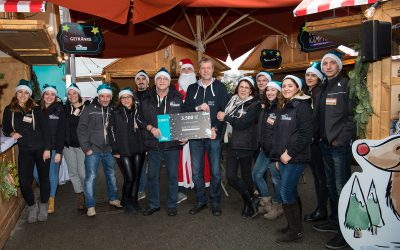 Click here for the picture gallery of the Open House 2018.