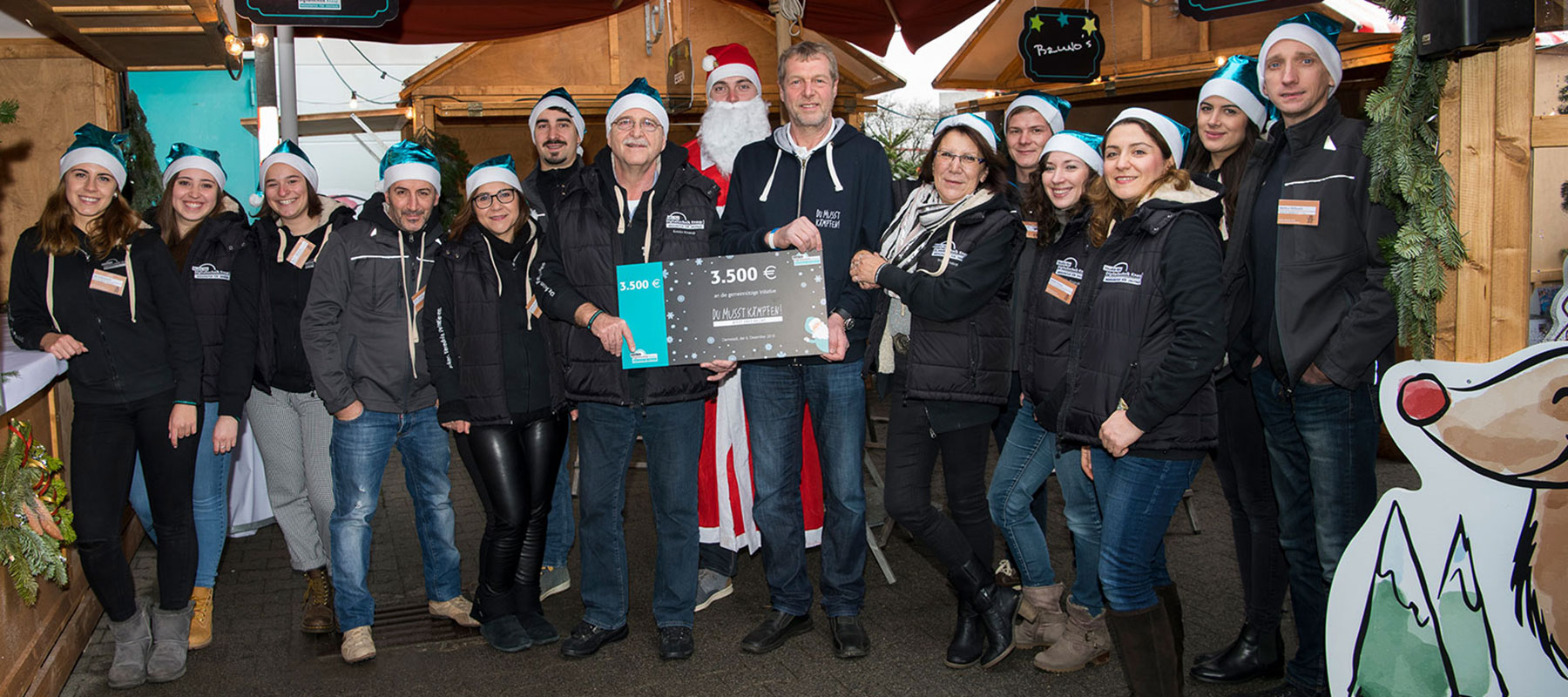 Give support
Instead of gifts: Donation of 3.500 Euro to the foundation "Du musst kämpfen".
Darmstadt, December 2018
This year the presents are cancelled! At least for customers and partners of the Studio für Digitaltechnik Knaup (SfDK). Instead, donations were made!
Authorized signatory Armin Knaup: "We decided to support the foundation "Du musst kämpfen" with 3.500 Euro. Here we know what happens with the money and that it is used sensibly." The foundation supports sports therapy projects for children suffering from cancer. Armin Knaup handed over the cheque with the team to Martin Heimes, Managing Director of the Foundation, on the occasion of the 2nd Christmas Market of the SfDK. Martin Heimes raised another 400 euros by selling solidarity ribbons and T-shirts at the Christmas market. "Our customers and partners were enthusiastic about the idea of donating instead of gifts this year," says Tobias Knaup, owner of the SfDK from 1 January 2019. "The very gratifying demand for the foundation's articles at our Christmas market also shows us that we made the right choice for our donation".
The event, which provided a Christmas atmosphere with stalls and mulled wine, replaced the traditional "Open House" in summer, with which the SfDK presents its service and product range once a year.
Supporting the foundation "Du musst kämpfen" was obvious: for years the SfDK has been closely associated with the soccer club SV Darmstadt 98 ("Die Lilien"). Long time as business partner and since this year as official sponsor. Among other things, the SfDK had produced and installed large-scale advertising on the occasion of the temporary renaming of the Böllenfalltor Stadium to "Jonathan Heimes Stadium".
At earlier Open House events, the SfDK had already organized or supported campaigns for the benefit of regional charitable institutions or initiatives, including the Bärenherz Children's Hospice in Wiesbaden, the Princess Margaret Children's Hospital of the Alice Hospital in Darmstadt and the Darmstadt World Shop.
More information about the foundation: https://dumusstkaempfen.de